What Are the Common Used Optical Devices in DWDM System?
2022-09-30
Dense wavelength-division multiplexing (DWDM) is an optical fiber multiplexing technology that is used to increase the bandwidth of existing fiber networks. It combines data signals from different sources over a single pair of optical fiber, while maintaining complete separation of the data streams. This is a laser technology used to increase bandwidth over existing fiber optic backbones. DWDM technology is an extension of optical network, the main advantage of DWDM is that it is independent of protocol and transmission rate, DWDM-based network can transmit data in IP, ATM, SONET, SDH and Ethernet.
Optical devices in DWDM system: DWDM optical transceiver modules, DWDM MUX/DEMUX, DWDM OADM and optical amplifiers.

DWDM Transceiver Modules
DWDM optical module is an important device for photoelectric signal conversion. Every DWDM transceiver module has its own specific wavelength, using DWDM technology can greatly save fiber resources. Most DWDM transceiver modules (DWDM SFP,DWDM SFP+,DWDM XFP, etc) on the market today are operating at 100GHz and 50GHz.
DWDM Mux/Demux
DWDM Mux combines data signals from different sources over a single pair of optical fiber, while maintaining complete separation of the data streams. Conversely, DWDM Demux refers to the type of combinational circuit that accepts just a single input but directs it through multiple outputs. Instead of using a single fiber in each pair of optical transceiver modules, DWDM allows multiple optical channels to share the same fiber optic cable.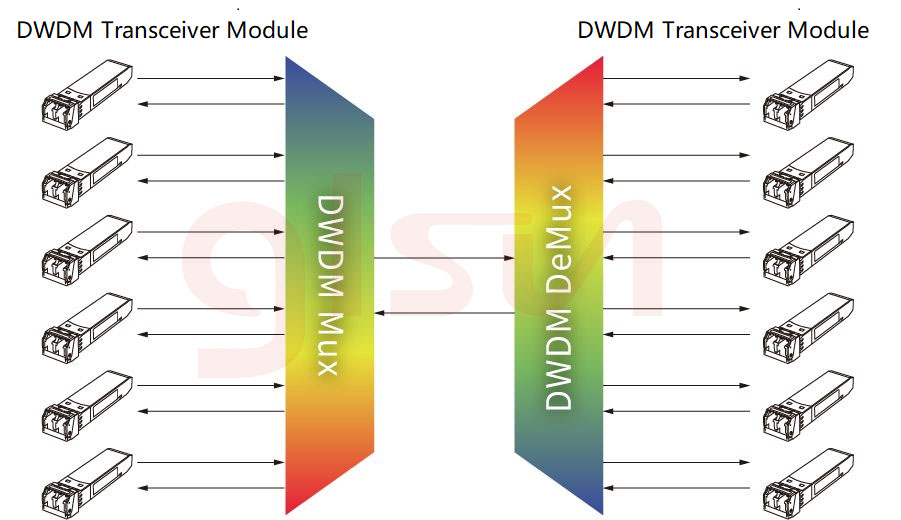 AAWG
Athermal AWG (Arrayed Waveguide Grating), or AAWG, is based on silica-on-silicon planar technology. It mainly realizes the functions of multiplexing and demultiplexing for more than 16 channels. AAWG has thermal stability and improved ITU-Grid accuracy that ITU-G694.1 requires for with wider transmission bandwidth, thus it can be applied to high-end areas such as Metro/long-haul DWDM optical communication system.
DWDM OADM
An optical add-drop multiplexer (OADM) is a device used in wavelength-division multiplexing systems for multiplexing and routing different channels of light into or out of a single mode fiber. The OADM based on DWDM technology is moving the telecommunications industry significantly closer to the development of optical networks. The OADM can be placed between two end terminals along any route and be substituted for an optical amplifier. Commercially available OADMs allow carriers to drop and/or add up to multi channels between DWDM terminals. By deploying an OADM instead of an optical amplifier, service providers can gain flexibility to distribute revenue–generating traffic and reduce costs associated with deploying end terminals at low traffic areas along a route.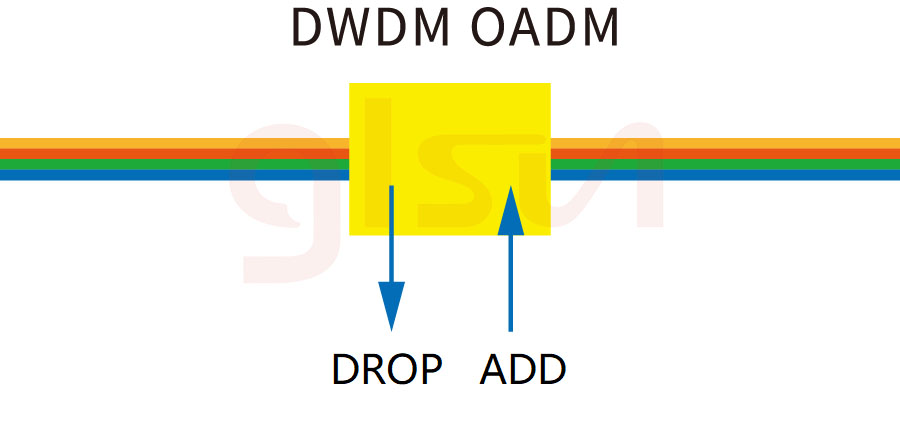 Erbium-doped optical Fiber Amplifier
Erbium-doped optical Fiber Amplifier (EDFA) is now most commonly used to compensate the loss of an optical fiber in long-distance optical communication. Another important characteristic is that EDFA can amplify multiple optical signals simultaneously, and thus can be easily combined with WDM technology. Optical amplifiers can amplify optical signals in a wide wavelength range, which is very important for DWDM system applications. In contrast to the EDFA used in CATV or SDH systems, the EDFA in DWDM system is also referred to as DWDM EDFA.To extend the transmission distance of the DWDM system, you can choose from different types of optical amplifiers,including DWDM EDFA, CATV EDFA, SDH EDFA, EYDFA and Raman amplifier, etc.