Active Optical Cables and Optical Transceiver Module
2021-11-16
With the steady expansion of information transmission and data exchange capacity, and the consequent increase of high density and high broadband applications, traditional copper cables are falling behind in meeting the requirement of communication. Compared with traditional cable, active fiber optical cable can highly facilitate communication equipment with optical transmission. So what makes AOC (Active Optical Cable) stand out? What are its unique features. We will look into it in this article.
What is Active Optical Cable
AOC is short for active optical cable, which consists of integrated optoelectronic devices (two optical transceivers and multi-mode optical fiber) and is used for high-speed and high-reliability transmission between data centers, high-performance computers, and large-capacity memory devices.
Compared with traditional cable, active optical cable features better user-friendliness, reliability and lower power consumption. Its long distance and high speed rate transmission has brought much convenience to communication equipment, making it the ideal transmission cable in the field of data centers.
Types of Active Optical Cable
10G SFP+ Active Optical Cable
The shell of the 10G SFP+ AOC Cables is a metal shell with EMI (Electro-Magnetic Interference) resistance. It adopts hot-swappable SFP+ package and a highly reliable 850nm VCSEL laser and PIN receiver. Compared with traditional copper cable, its transmission distance can reach up to 300M, overcoming the broadband limitation of traditional copper cable.
25G SFP28 Active Optical Cable
25G SFP28 AOC is suitable for the connections of 25G and 10G Ethernet, high capacity IO and SFP+ interface, data center and rack-mount chassis, with a throughput capacity of up to 25Gbps. Featuring smaller dimension and lighter weight than 25G high-speed cable, 25G SFP28 active optical cable does not require equipment upgrades, and has better transmission performance and bit error rate, thus being widely used in high performance computing, data centers and storage area networks.
40G QSFP+ Active Optical Cable
40G QSFP+ AOC adopts four-channel full duplex active optical cable, with transmission rate reaching up to 11.3Gbit/s at each channel. Compared with 40 optical transceiver module, 40G QSFP+ AOC adopting multi-mode optical fiber and high performance VCSEL light source, renders no insertion loss and return loss in short distance network transmission. It helps users to save cost with its lower material cost and maintenance cost, and is mainly used in cloud computing systems and data centers.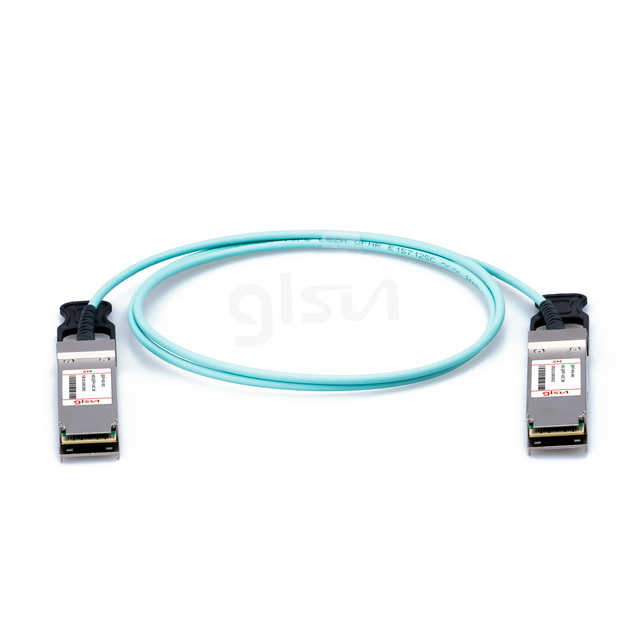 100G QSFP28 Active Optical Cable
Both 100G QSFP28 AOC and 40G QSFP+ AOC use four-channel full duplex active optical cable. The bandwidth of 100G QSFP28 AOC is 100 Gbps, with a wavelength of 850nm multi-mode optical fiber system. It is composed of two optical transceivers and a fiber jumper, with a 100G optical transceiver installed at both ends, enabling one-to-one transmission. It is mainly used in data centers, high performance computing and storage area network, and is compatible with servers and fiber network switches of various major brands.
Application of Active Optical Cable
Currently the market of active optical cable is constantly expanding, and its application is gradually getting more extensive. It can not only connect a number of machines with the host, but also has a wide range of applications in areas of cloud computing, big data centers, high speed data transmission and digital signage. Active optical cables not only ensures the high speed transmission of data, but are also applied in more areas with its long transmission distance and good transmission performance.