Application Scenarios of CFP Transceiver Modules
2023-02-26
CFP optical transceiver modules are mainly used in switches, routers, converters, OTN optical transmission platforms and other equipment for line-side optical transmission of 100G wavelength division systems. Compared with other forms of line-side optical modules, It has good OSNR performance, sensitivity, dispersion tolerance, and DGD tolerance. At the same time, CFP coherent optical modules using wavelength division multiplexing technology are widely used in 100G metropolitan area networks to meet their high-capacity and long-distance requirements.

100G Multi-channel DWDM Transmission Network
Since 100G is more susceptible to dispersion, it is necessary to dispersion and improve optical power. First, a 100GHz DWDM multiplexer is used to combine all 100Gs, and then the dispersion compensation and amplification of the whole combination are performed. This architecture supports "pay-as-you-grow" service providers. Existing legacy 10G channels can be seamlessly swapped with 100G services when bandwidth is exhausted. The rest of the same components can even be reused to extend the data rate to 2.4Tb/s.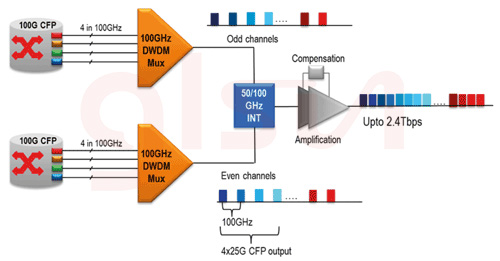 This solution requires 24 color CFP optical transceiver modules and a 48-channel 100GHz DWDM multiplexer. First, all 100G lines are multiplexed together, and then only one dispersion compensation and amplification is required. Obviously, such a network structure can provide higher density at a reasonable cost, and has the ability to flexibly reuse the existing infrastructure.

100G Distance Extension Solution
SFP + OEO Optical amplification repeaters can be used in conjunction with switches to achieve distance extension. After the 100G output signal of the switch is converted into a DWDM signal, it can realize longer distance transmission. This solution eliminates the distance limitation problem by using CFP coherent optical transceiver modules to connect the output signal to the line fiber to achieve longer distance signal transmission.


The above architecture achieves longer-distance signal transmission by adding MTP branch cables and WDM SFP + OEO converters, 6-channel dual-fiber DWDM dense wavelength division multiplexers and 8-channel dual-fiber CWDM coarse wavelength division multiplexers. The role of OEO is to convert conventional SR wavelengths to DWDM wavelengths. Therefore, the 100G CFP coherent optical module is an effective solution for building a 2500km long-distance DWDM network.